It's a very pleasant feeling when you pick berries in the forest, and then bake a pie with them. They are the best pies in the world. I love berry pies, and this time I decide to cook pie with wild strawberries. And it was very tasty. But still remains, the best for me is blueberry pie, and I will share it with you, but later)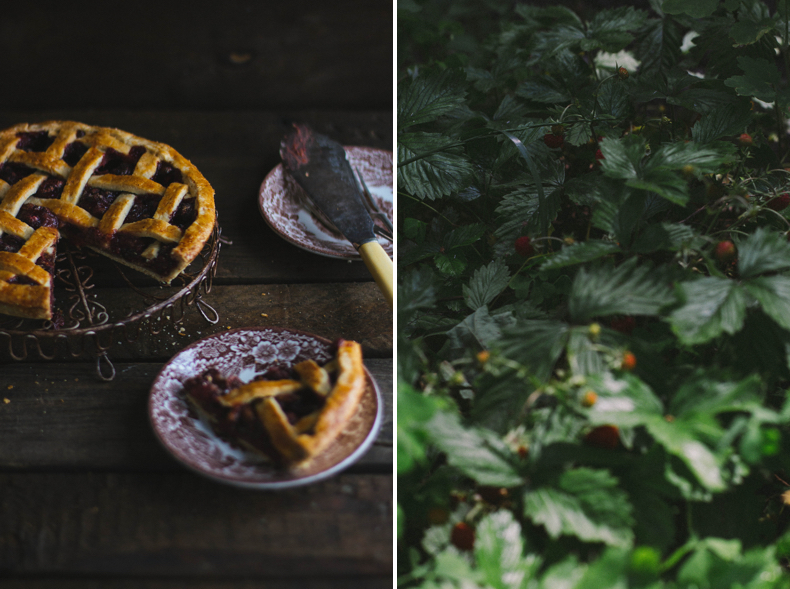 Pie with Wild Strawberries
(24 cm in diameter pie)

SHORTCRUST PASTRY:
250g all-purpose flour
125g very cold unsalted butter, cut into cubes
1 big egg
5-6 tbsp ice water
75 g sugar
1/2 teaspoon salt

FILLING:
800 g washed and-dried wild strawberries
1/2 tbsp. sugar
2-3 tablespoons cornstarch
3 tbsp almond flour
juice of half a lemon
As you probably noticed, pate brisee is one of my favourites. It's denser than shortcrust, doesn't crumble, and if you kneaded it well, it will exfoliate gently, that I really like in a berry pies and tarts. I wrote some general rules for pate brisee:
TANIA'S NOTES:
– Butter must be very cold. I always keep one pack of butter in the freezer. You can put it for a few hours before cooking. Water must be icy also. Before cooking, place it in the fridge for one hour too.
– So, the hands worm up the dough, butter begins to melt and it's not good for pate brisee. So, if you are unsure how fast you can knead the dough, I advise you to do it in nylon gloves, so you will have a few extra minutes to mix the dough, because your hands will not be so hot.
Whisk together flour, salt and sugar then add the butter into the flour by rubbing together with your fingertips until the mixture resembles bread crumbs. Add the egg and ice water use a fork to mix it into the crumbs. Tip the pastry crumbs out onto a clean surface and press into a ball. Roll it using a rolling pin and baking paper, your dough must be about 3-4 mm thick. Place it into the pan and refrigerate for 30 minutes. Roll the remains of dough and cut strips from it, 1 cm thick. Let it in the fridge too.
Preheat your oven to 200°c Sprinkle berries with sugar, cornstarch and mix gently. Drizzle with lemon juice. Remove the pan with dough from the refrigerator. Prick bottom with a fork. Sprinkle with almond flour bottom of dough. I don't bake the dough in advance, but if I use a berry filling, I sprinkle almond flour on the bottom of dough, it will soak up the juice from the berries. Put filling into the pan. Cover pie with a strips of dough. Grease top of pie with the beaten egg and send it in the oven for 45-50 minutes, until the dough will be golden and the berries will begin to release juice. Serve warm.