These weeks were so cloudy in Kiev. I like such weather but more than it I like to bake something aromatic and eat it with cup of warm tea or coffee (I prefer a few cups of cappuccino, much more than it's normal). I like savoury pastry and after my good experience with english scones (I shared ones with herbs there) I decided that it would be great to mix some dried tomatoes and feta in scones. This scones are perfect for men's breakfast with ham for example or cream cheese.
My Nick enjoyed them. Also they would be an excellent addiction to your hot soup! I hope you enjoyed this recipe too!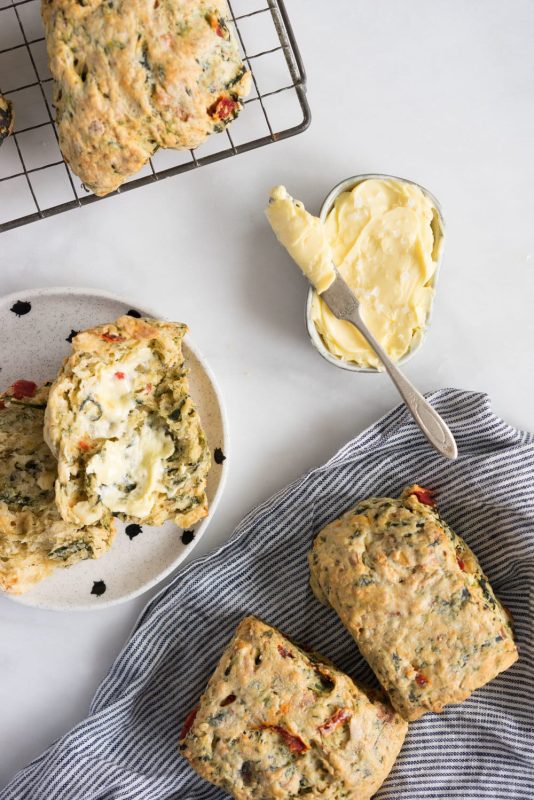 Tomato-Feta Savoury Scones
250 g flour
1 tbsp baking powder
pinch of salt
1 tsp sugar powder
100g cold butter (chopped into pieces)
1/2 cup buttermilk
2 eggs
dried tomatoes
cheese "Feta"


FOR GRACING:
1 egg yolk
3-4 tbsp milk
pinch of red and black pepper


Mix the flour, baking powder, salt and powdered sugar. Add chopped butter and rub with your fingertips until the mix will be crumb. In a small bowl whisk the eggs and buttermilk together, add this mixture to the flour mix. Cut feta and dried tomatoes into small pieces. Stir with a wooden spoon. You can add some flour until the dough stops sticking to your hands (this may be, because the Feta is mild). Take the dough out onto floured table. Knead it about 10 seconds. And roll layer about 1,5-2 cm.
Preheat oven to 200 degrees. And line oven-tray with baking parchment.
Cut out the scones circles from dough (or triangles for example). Whisk an egg yolk with milk and grease your scones with this mixture. Sprinkle with red and black pepper. Bake about 15-18 min. until golden brown.
Keep scones a few days in a special container.